AIRLINE CARGO BUSINESS ASSOCIATION
was founded on September 5, 2002 by Asiana Airlines, Cargolux Airlines International S.A. and Martin Air Thailand. A former name of the association was ACPThailand, which was locally established in 1993 by TG, QF and JL to be a working group of interline cargo managers in Thailand .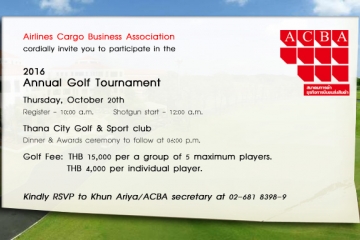 Airlines Cargo Business Association cordially invite you to participate in the 2016 Annual Golf Tournament Thursday, October 20th Register - 10:00...